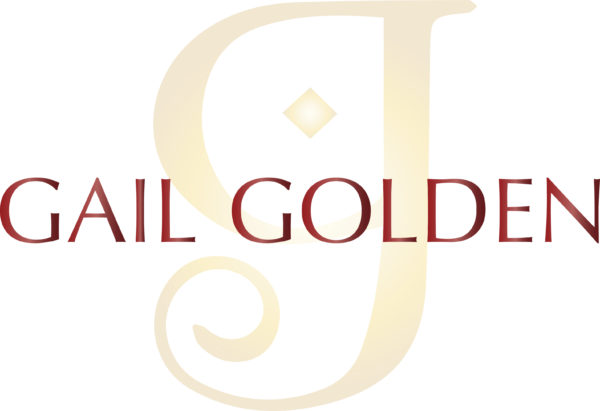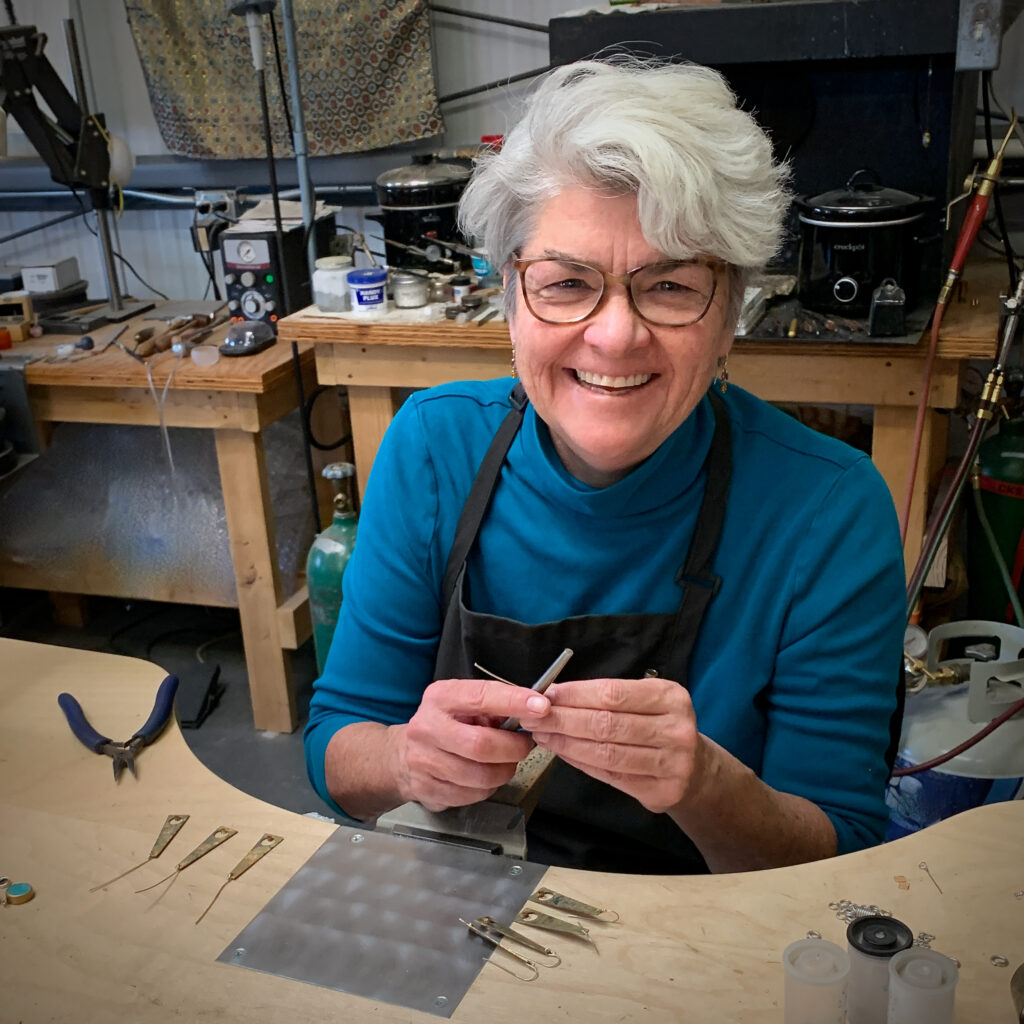 ABOUT GAIL GOLDEN
"In a world where mass production is common, I take an uncommon approach to making jewelry. Each piece is handmade, one at a time. My jewelry tells stories of individualism. Dialogues with nature's aesthetics. An affinity for the earth's treasures of precious metals and gemstones. Expressing beauty in a new way. I specialize in connecting with you to create jewelry that tells your story.
The clear light and dramatic weather of northern New Mexico are deeply influential. My designs lean towards earthy and rustic, especially when I combine high karat gold with steel. I share my studio with my goldsmith husband and dogs Sir Angus Porterhouse, Sashi Pearl, and Sheila Blue. We welcome visitors by appointment."
"Past lives" include stints as a seasonal forest fire fighter, river rafter, ski instructor, T-shirt illustrator, clothing buyer, and lots of time in the backcountry on horseback and backpacking. Each experience informs her current design expression.
In addition to her online store and showroom, Gail's work can be found at the Millicent Rogers Museum in Taos New Mexico.
WARM WORDS FROM HAPPY CLIENTS
"Oops… You did it AGAIN!! Another "Uh-Mazing" stunner!! This is hippy chic, boho bling, confident casual, and glam greatness all rolled into one! LOVE IT!!"
---
2019-12-07T19:01:50-07:00
"Oops… You did it AGAIN!! Another "Uh-Mazing" stunner!! This is hippy chic, boho bling, confident casual, and glam greatness all rolled into one! LOVE IT!!"
https://goldenandersonstudios.com/testimonials/gail-polly/
"Like one of the rarest pearls in the ocean…. Gail Golden is the real deal and just as precious!! Any piece in her collection is a must have!"
---
2019-12-08T00:12:11-07:00
"Like one of the rarest pearls in the ocean…. Gail Golden is the real deal and just as precious!! Any piece in her collection is a must have!"
https://goldenandersonstudios.com/testimonials/gail-polly-2/
"Your energy comes through your pieces. They are stunning. You super woman hero!"
---
2019-12-08T00:13:51-07:00
"Your energy comes through your pieces. They are stunning. You super woman hero!"
https://goldenandersonstudios.com/testimonials/gail-jamie/
"Yahoo Gail–the most comfortable ring I've ever worn! Great collaboration, your fabulous design and workmanship is stellar and so appreciated! Mom and Dad would be amazed at what their engagement diamond looks like now! Thank you, thank you, thank you!"
---
2019-12-08T00:18:48-07:00
"Yahoo Gail–the most comfortable ring I've ever worn! Great collaboration, your fabulous design and workmanship is stellar and so appreciated! Mom and Dad would be amazed at what their engagement diamond looks like now! Thank you, thank you, thank you!"
https://goldenandersonstudios.com/testimonials/gail-susan/
"Lost my wedding ring ~ Silver lining: My ring is NOT my marriage. I never got too upset as I try not to put more weight on material objects than I should. However! Mom and Dad gave me some loose gemstones for a new ring (that was special because Dad is now watching over us), my friend Gail Golden is creating it and I love her style & character & dedication to her art, and Jesse got to help decide which stones and be in on the process, which didn't happen with the first ring. Time for a new chapter."
---
2019-12-08T00:20:02-07:00
"Lost my wedding ring ~ Silver lining: My ring is NOT my marriage. I never got too upset as I try not to put more weight on material objects than I should. However! Mom and Dad gave me some loose gemstones for a new ring (that was special because Dad is now watching over us), my friend Gail Golden is creating it and I love her style & character & dedication to her art, and Jesse got to help decide which stones and be in on the process, which didn't happen with the first ring. Time for a new chapter."
https://goldenandersonstudios.com/testimonials/gail-anita/
"Hank's gift to me for our 21st anniversary. [The ring] has my dad's wedding band some of my mom's diamonds and an aquamarine that my parents gave me in my 20s. Gail Golden surpassed our expectations!"
---
2019-12-08T00:21:37-07:00
"Hank's gift to me for our 21st anniversary. [The ring] has my dad's wedding band some of my mom's diamonds and an aquamarine that my parents gave me in my 20s. Gail Golden surpassed our expectations!"
https://goldenandersonstudios.com/testimonials/gail-kristie/
"Gail, your vision and skill continue to evolve from one breathtaking piece to another. Your work is spectacular, time after time."
---
2019-12-08T00:22:41-07:00
"Gail, your vision and skill continue to evolve from one breathtaking piece to another. Your work is spectacular, time after time."
https://goldenandersonstudios.com/testimonials/gail-hillary/