I'm pleased to find out that I just won the Best of Jewelry award for the second year in a row at the Millicent Rogers Museum annual Miniatures show for my new "Desert Collection".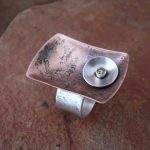 In addition, my husband, David Anderson, won Best of 3-Dimensional for a beautiful hand chased and repousséd vessel.
We have some celebrating to do!
The Millicent Rogers Museum is housed in a building built by David's grandfather, Claude Anderson. Claude was a great patron of the arts in Taos. The collections in the museum consist mostly of local Pueblo and Hispanic art collected by Millicent Rogers during her visits to Taos. We're always proud and honored to be invited to exhibit in their very exciting shows.